Does your IT Service Desk deliver service excellence?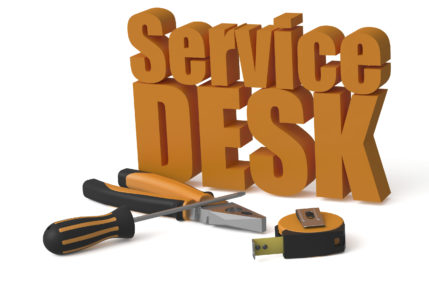 COVID-19 has put the spotlight firmly on IT and how it handles the mass shift from office to home working – and the Service Desk is the very visible face of IT. Service Desks need to manage demand quickly and efficiently and ensure employees get what they need to stay productive.
Here are 6 tips to help you drive service excellence and support your employees as they navigate and explore new ways of working.
Tip 1  Create a Service Strategy
The IT Service Desk is an operational response to your service strategy. For all the rhetoric we hear in the IT industry around alignment to ITIL standards, it's surprising how many Service Desks have evolved over time and are not a response to a set of current business requirements. There is often confusion between the business stakeholders and IT department as to the purpose and performance of the Service Desk.
For most organisations, COVID-19 has facilitated a change in business requirements with a focus on employee tools and end user support, provision of collaboration capability and supporting new risks involved around organisational security.
Setting and updating a clearly defined service strategy can significantly improve your stakeholder relationships.
Tip 2  Maintain accountability
A good service strategy highlights the roles and responsibilities of all stakeholders in the delivery of your IT services capability. Where organisations delegate authority to a third party (outsourced IT Help Desks or Service Desks represent about 30% of the market*), it's important to understand that accountability cannot be delegated to the outsourcer, only the responsibility for delivery of the service. There must always remain a clear owner of the function and a governance model that includes checks and balances to ensure ongoing service quality.
In this current market, it's time to reassess your operating model. How has the environment changed now and what will it look like in the future? Are current partnerships still meeting these needs and if the role of IT has changed, how do we realign accountabilities to ensure nothing falls through the cracks?
Tip 3  Understand your end-to-end user experience
Internal processes are too often designed from the inside out, resulting in the experience of the end-user being overlooked. Or they may be designed with little consideration of upstream and downstream dependencies and how these operate across the organisation. The IT Service Desk can lead the charge as a champion of process improvement, and here's how: firstly, identify all the services provided to end-users through the creation of a Service Catalogue. This provides insights which help define expectations around how each service is delivered (such as metrics, financial models, stakeholders). Once you have a Service Catalogue, select a service and assess your performance through a customer-focused lens. You can achieve this through the use of customer design principles such as Journey Mapping. Mapping the end-to-end service experience and identifying the experiences that fail the end-user's ability to service your external customers, is a key component of reaching your customer experience goals.
Employee connectedness, user experience and advocacy is paramount in an environment that is creating so much uncertainty for our employees. A connected, engaged workforce will ensure a service differentiator to your customers during this time where customer expectations are low.
Tip 4  Manage expectations
The IT Service Desk is the front door to management of processes that are often owned by other internal departments – such as an enquiry about a laptop which is part of an on-boarding process (owned by HR), or a follow-up from an end-user on broken equipment (owned by Procurement). Outsourced service desk relationships typically include Service Levels or performance expectations, however very few organisations implement internal Operational Level Agreements (OLAs). The process may be considered too formal, or hard to negotiate politically. Yet without an understanding of these expectations, the IT Service Desk cannot successfully manage end-user expectations, and this is a critical component in the delivery of user experience and service excellence.
Tip 5  Value your people
There's a growing awareness in the customer experience community of the important links between employee engagement and customer experience outcomes. The traditional contact centre has worked with tools and processes over the years that focus on improving the retention and performance of their staff through better employee engagement. The IT sector has been slower to understand the benefits of people and culture. More focus must be directed to the people in the Service Desk, to support them in engaging and satisfying end-users. The Service Desk Manager could look towards the contact centre as an example of how this might be achieved.
Tip 6  Select metrics that matter
We often look to best practice and implement this without really understanding the links between the outcomes we are trying to achieve and the impacts on people and culture. Service Desk KPIs must be created to drive outcomes that are clearly defined in the Service Strategy. If the outcome of each KPI is not clearly understood, it should be thrown out. There have been recent movements away from traditional metrics, with a view to providing more relevant strategic insight to IT stakeholders. One such view that has gained momentum is given by Jeff Rumburg of MetricNet. The metrics Rumburg recommends are:
Cost per Contact
Customer Satisfaction
Agent Utilisation
First Contact Resolution Rate
First Level Resolution Rate
Agent Satisfaction
Aggregate Service Desk Performance
Service Desks impact not only your own employees' performance, but the service employees provide to your customers. Supporting your workforce has never been more critical to the survival of your business. If you get the service right, you can expect all the additional benefits around cost optimisation and efficiency.
It's time to create and update Service Desk experiences to leverage this important capability within your organisation. With every change comes and opportunity to innovate and differentiate your business. Don't miss this one!
(*) Axios
Is your Service Desk delivering excellence during COVID-19? Speak to a consultant who can review and benchmark your Service Desk performance, and help take it to the next level. Contact us.