Contact Centre
Which Australian companies are outsourcing their contact centre services?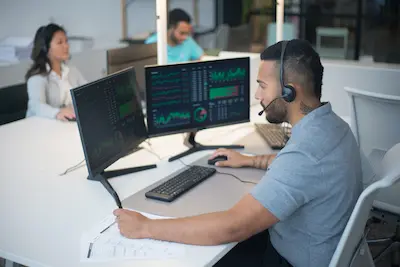 Most large organisations outsource at least some contact centre activity while maintaining the rest in-house. This may be referred to as a hybrid, or champion-challenger, operating model. Here is a list of 20 Australian companies that outsource at least part of their contact centre (in alphabetical order): 
– AGL (4.2 million customers)
– Australian Super (2.5 million members)
– Australian Taxation Office
– BUPA Health Insurance (3.9 million customers)
– Energy Australia (1.6 million customers)
– Flybuys (8 million customers)
– HCF (1.8 million customers)
– IAG (8.5 million customers)
– Macquarie Group (1.7 million customers)
– Medibank (3.9 million customers)
– NAB (8.5 million customers)
– Optus (9.7 million customers)
– Origin Energy (4.2 million customers)
– Qantas (12 million frequent flyer members)
– Spotlight Retail Group (5 million VIP club members)
– Telstra (18 million mobile subscribers)
– Virgin Airways (10 million Velocity members)
– Vocus (1 million retail customers)
– Vodafone / TPG Group (5.25 million mobile customers)
– Westpac (14 million customers)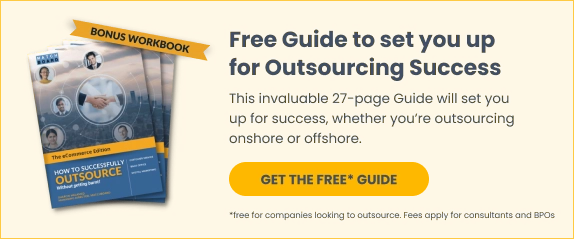 Contact centre outsourcing by industry
The top 3 private sector industries in Australia that outsource call centres or contact centres are:
Telecommunications

Energy (electricity and gas retailers), and

Financial services (including banking, insurance and superannuation)
Unsurprisingly, these are industries which touch every consumer, where the main players have millions of customers each. Outsourcing is a key component of the service strategy of most companies at this scale.
Around 15 years ago, the ATO (Australian Taxation Office) set in train a trend for Government departments and agencies to also outsource contact centres. The security and technology environments are just as strict for the outsourcing companies in Australia as for the Government's own contact centres, but outsourcing provides the added advantage of flexibility to respond to the peaks and trophs caused by new Government initiatives or unplanned events. In fact, contact centre outsourcers were instrumental to the management of the Government's COVID response, scaling up to thousands of additional contact centre agents at both a State and Federal level.
Not every call centre outsourcing company can do work for Government agencies like the ATO – there are panels of preferred suppliers, assessed through a competitive and rigorous procurement process (for example once every few years), and if you're not on the panel, you can't respond to requirements.
At the local Government level, councils typically outsource contact centres for after-hours coverage, as they need to be available for emergencies around the clock.
Catalysed by the pandemic, companies in the e-Commerce and logistics sector drove a wave of contact centre outsourcing, particularly offshore.
Where do Australian companies outsource contact centre services?
Australian companies outsource onshore, nearshore (New Zealand) or offshore (overseas).
Government and health organisations nearly always outsource call centre services onshore. Companies with small call volumes often find it's not worth the effort going offshore, as local Australian call centre providers charge on consumption (per minute) and are happy to take on small volumes in a blended setting (where one call centre agent may be handling calls on behalf of many companies).
Offshore, Fiji is now a serious challenger to more established markets such as the Philippines, India and South Africa, with the volume of contact centre outsourcing contracts awarded to Fiji BPOs higher than market leader the Philippines for the first time in 2022, on Matchboard's platform.
Behavioural economics shows that people will often choose the middle option when presented with three options, and New Zealand, with a pricepoint 15-20% less than Australia, but still 40% more than developing countries, often appeals to businesses that need a cost saving but aren't willing to compromise on accent familiarity or geographical proximity.
Request pricing
Trends in contact centre outsourcing
The inhouse / outsource pendulum has swung back and forth over the last few years. Big brands like Telstra, Optus, Origin Energy, Alinta and Westpac brought back large numbers of call centre agents onshore from outsource partners in the Philippines and India. This was triggered by service disruptions in those countries, caused by lockdowns and shutdowns in 2020 and 2021, followed by rebellion by workers in coming back to the office in 2022. Some of the work moved from offshore outsourcing to onshore inhouse, however local contact centre outsourcers also picked up some significant contracts.
Contrary to perception and reporting by some analysts, it's worth noting that Telstra still outsources digital (email, chat, social media) customer service offshore, while calls are now handled in Australia for the consumer and SME segments.
Another trend is risk diversification – companies that had all their eggs in one basket offshore realised during COVID that they need another location option to reduce risk.
A further driver of contact centre outsourcing this year is the workforce and skills shortage in Australia. Companies are struggling to find contact centre agents in every capital city, and engaging an outsource partner is helping to bridge the workforce gap.
On balance, increased contact centre volumes have resulted in growth in both the size of inhouse operations and call centre outsourcing companies, both in Australia and overseas, which are now busier than pre-COVID.
White paper: Outsourcing Advantages and Models