Technology
Contact Centre Gamification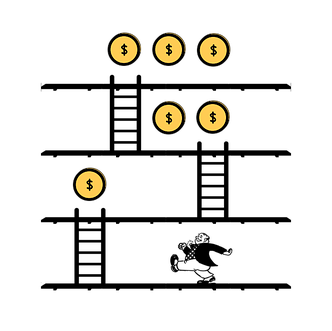 Part psychology, part technology, gamification is about more than providing staff with incentives. The aim of a gamification program is to influence behaviour so that the tasks required to achieve the organisation's goals and objectives get done, and get done correctly.
It essentially means codifying and systematising the rewards process which runs informally in most organisations. Put simply, if everyone knows up front what they have to do, and what the rewards are for doing it, those things are more likely to be done.
Business benefits
The best-performing organisations have staff who are engaged at work, who know and understand what goals they are expected to achieve, and who are trained and empowered to achieve them.
Companies with high employee engagement scores saw 65% greater share price, 26% less turnover, 20% less absenteeism, 15% greater productivity and up to 30% higher CSAT levels (Queens School of Business).
So, the rationale behind a gamification program, and the deployment of a gamification platform in the contact centre, is to improve customer service training and onboarding results, keep agents motivated, and incentivise behaviours that help them meet objectives. Increased employee satisfaction from this process has the knock-on effect of improving the customer experience and building loyalty.
A gamification program seeks to:
Engage agents
A contact centre environment is not an easy place to work. Sometimes it can be quite routine and repetitive, while at other times it can be stressful and require creative thinking to solve problems for difficult customers. For these reasons, staff turnover and absentee rates in contact centres are generally high. From a customer point of view, dissatisfied staff provide poor service and results.
With a gamification program, managers and team leaders can monitor performance and provide agents with instant feedback and rewards which are publicly recognised. The idea is to put the interest and fun back into work.
Influence behaviour
The rules of the game and the rewards that follow must encourage the behaviours that help the organisation achieve its business objectives. The focus should be on engaging staff to follow processes correctly, complete tasks accurately and on time, and then celebrate their achievements.
This is accomplished by providing ongoing recognition and feedback. The heart of a gamification platform is the scoreboard that shows everyone how well they are doing compared to all the other players. They receive perpetual feedback and constant visibility into their (and their team's) performance against their key performance indicators (KPIs) and those of their peers.
Train and empower agents
There is a good reason that self-actualisation sits at the top of Maslow's famous hierarchy of needs. Personal development and skills acquisition help give people a sense of purpose and advancement. Introducing a competitive, fun element to training programs helps keep people engaged and has also been shown to improve recall.
Gamification can be built into the organisation's e-learning platform, if it has one. Staff can gain points and rewards for completing modules and passing tests. The lure of unlocking the next level and accessing higher skills works just as well as a motivator in professional life as it does in video games.
How to implement gamification
Setting targets
The first step to creating a great gamification program is knowing exactly why it is being implemented. There are two levels to consider.
Start with the high-level objectives that need to be achieved. That could be something as straightforward as make more sales. It's better to give a quantifiable target so that you can later measure how successful you were. For example, increase sales by 20%.
Note that just defining the objective does not help anyone achieve it. That's why it's important to break the objective down into a series of tasks or behaviours which, if done correctly, will most likely lead to the high-level target being met. So, in this case the behaviour being encouraged might be to complete 50 contacts per day; send appropriate content based on sales cycle; add all decisionmakers and influencers into the CRM; present proposals – and so on.
The behaviours that are gamified must generate real value to customers and the organisation. If staff cannot see the point of the tasks they are being encouraged to do they will fall by the wayside. It is this "value" that keeps people playing the game and drives sustainable behaviour change.
Game mechanics
Most contact centre gamification platforms allow for the creation of almost any type of game. These can be solo games where it's about completing objectives to score points, or more competitive games where staff members or teams face off. The important thing is that the rules of the game introduce constraints on players' behaviour, funnelling them to make certain choices and not others.
The other caveat is that players have to understand how the game works. So keep it simple, at least to start with, and start small with maybe one or two high-level objectives. Gamification should be about practising and learning the desired behaviours, not about knowing and exploiting the rules of the game. However, players should be able to understand how their actions relate to the score so they know what to do to succeed.
Define the rewards
The rewards you offer play a major role in the success of your gamification program. Milestones act to motivate agents and keep them engaged until they are achieved – then there is always the next one to go for.
A mix of reward types also keeps things interesting. For example, rewards like badges for specific actions are all very well, but it's good to have a competitive element to some rewards as well. Be careful not to give rewards out too cheaply or too often as this can diminish their value, causing players not to take them seriously.
It's important that whatever rewards you do choose are consistent with your brand and its values.
It's all too easy to encourage the wrong behaviour if people go chasing rewards. For example, if yours is a service-led culture, consider that incentivising sales may encourage the wrong behaviours.
Selecting a Gamification platform
The place where your game rules and the metrics you measure come together is the gamification platform. To engage agents and create a positive experience a good user interface should display scores clearly, make the rules of the game easily understandable, and demonstrate the link to the activities that are being encouraged. It should be clean and simple and provide quick and easy access to whatever players need.
For managers, creating new competitions should be quick and easy, as should viewing agent performance and recognising achievements, or coaching agents who are not meeting goals. For monitoring the success of the program, built-in analytics should make the link between game results and any improvements in performance or productivity immediately visible. Ideally it should be possible to calculate ROI on-the-fly by comparing the improved performance against historical results.
Choosing a Gamification Vendor: data security, financial stability and customer support considerations
When selecting a gamification provider, there are a number of considerations that should factor into your decision. Gamification offers many employee training and other benefits to your business that you can continue to realise for years to come. That's why it is so important that you choose a provider that you can partner with for the long haul.
Data security, financial stability and customer support are of particular importance. Here are some recommended questions you can ask the vendors you are considering.
Data Security
Partnering with any software provider that hosts or accesses your data requires due diligence on your part around security. Here are some questions to ask vendors to ensure your data is secure.
What kind of staff do you have to ensure data security?
It is important to verify that the provider you choose has a full-time team in place that is dedicated to data security. In addition, you will want to understand infrastructure and connectivity measures the provider has to ensure additional layers of security.
Do you have experience working with other businesses in my industry?
Some industries are highly regulated. For example, financial services and healthcare have stricter security standards than other industries. It is best to work with a vendor that has experience with and can prove compliance with the specific regulations of your industry.
What kind of access do you offer?
You may not want everyone in your company to have access to everything. Roles-based access is the way to go. Be sure it has the granularity you need to protect your most sensitive data.
Financial Stability
When you are selecting a gamification vendor, it is important to check the company's financial stability. Here are some questions you can ask.
How long has the company been in business?
A company that has been around for a long time is likely to still be around for a long time to come. It is not in "start-up" mode, which means it is no longer chasing venture capital just to keep the doors open. Instead, it can provide a stable environment while channelling funds back into the business, specifically into research and development, so that it can continue to provide the industry with innovative solutions.
What is your YoY annual growth?
Another indicator of financial stability is YoY growth. A company that has sustained annual growth can invest funds into product development so that it is able to keep innovating to help you achieve the performance improvement and ROI you expect.
How long has your gamification platform been on the market?
Gamification has been around for a while, but is still fairly new to the contact centre. Even so, you will want to make sure you select a provider that has experienced the early bumps and bruises and has come out stronger on the other end. When gamification is part of a larger product offering, there can be other advantages as well. For one, it is backed by the funding and resources available from a large company which means that the product will continue to evolve, improve and be supported over time.
Customer Support
In addition to data security and financial stability, it is important for you to know what level of customer support your vendor can provide. Things happen. You will have questions. When you call in for support will your call be answered quickly, or will you be put on hold? If you have an after-hours emergency, will you talk to a live person or just get an automated recording? Here are a few questions to ask.
How many full-time customer support staff do you have?
What is the average tenure of your customer support staff?
Do you provide 24/7 live customer support?
Do you offer a variety of customer support options to suit our needs?
The Total Package
When you are selecting a gamification vendor, assessing the features and functionality of the gamification platform itself is just the first step. It is important to also evaluate the company's data security strategy, financial stability and customer service. Choose a provider that has the right level of resources to support your needs today, and to continue to innovate and serve your needs in the future.
Related Content
2021 Guide to Technology for Contact Centres and Customer Experience