The magic of Web Voice Synchronisation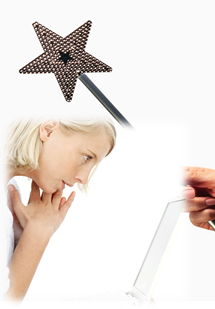 Every so often, a new three letter acronym appears in the world of sales and service, which is a game-changer.  Web Voice Synchronization, or WVS, is a hot new technology which is catching the eye of call centre and digital marketing executives alike. Essentially, it allows call centre agents to view the caller's online behaviour before they've even called, and during the call, empowers the agent to push tailored marketing offers and co-browse on the customer's screen. Sound like magic?
The magic trick in this case is a powerful piece of patented technology, linking a company's bank of rotating phone numbers with the browser of visitors to their website.
This means that the agent knows what the customer has been looking for online before opening the conversation, reducing the duration of the call and enhancing the customer experience and opportunity for a sale. But WVS (unlike older "call tracking" software) doesn't stop there.  It goes further to calculate the predicted value of the caller, and prioritises in the call queue on this basis. So for example, a call from a customer who's spent 20 minutes surfing for products valued at more than $10,000 may be answered much faster than a caller who's spent 30 seconds on the company's website with little engagement.  Customers with a high value score can be routed to premium "super" agents which leads tobetter conversion results. The routing algorithms can be customised to any company's needs.
The agent can also have at his or her disposal a range of marketing offers or coupons, and the most appropriate one can be selected and displayed on the customer's screen.  A written offer, accompanied by the call centre agent's explanation, is more powerful than the verbal offer alone, and this drives increased sales.
WVS also detects the default language setting on the caller's device.  This means a caller with Chinese as their default setting can be intelligently routed to a bilingual Chinese-speaking agent – with no requirement for the customer to enter or explain their language needs.
WVS may be a contact centre executive's fantasy, but it's also a marketing executive's dream come true. Knowing not only which calls result from which keywords or landing pages, but which of these in turn convert best in a call centre environment, is gold. Marketing budgets can be spent more intelligently, different offers can be tested in real time, and companies can gain competitive advantages in agility, lower cost to serve, more sales and advanced customer insights.
It's no wonder Forrester has identified Proactive Engagement tools such as WVS as a trend to watch.
If you are interested in more info on WVS, please contact us.
Related Content