Ditching drop-off: virtual queue solutions for contact centres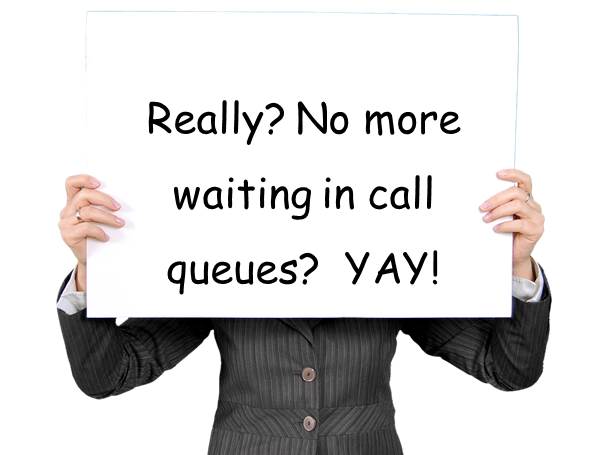 Virtual queuing services take the fuss out of call queue management and raise customer satisfaction. Australia has only recently started to embrace this powerful technology – already "the standard" in contact centres in the U.S.

What is Virtual Queuing?
Virtual queuing is a contact centre application that keeps a person's place in the call queue and initiates a call back when an agent is available, at a time the customer has nominated as convenient. The customer does not need to wait on the phone (or other channel) potentially saving thousands of minutes of aggregate time and reducing call abandonment and overall dissatisfaction.
Why consider Virtual Queuing
Are your customers spending too much time on the phone waiting to speak with a human agent? Is your brand being impacted by dissatisfied customers? These are two good reasons to look at virtual queuing for your call centre and cut down the mundane music on-hold experience.
Virtual queue technology offers a set of features designed to improve the call centre business process, including "call back" to reduce call waiting times, and custom data analytics to measure contact centre performance.
Virtual queuing is designed to improve regular hold services and as a consequence improve customer relationships and reduce brand damage – particularly as today's callers can easily complain on social media during a lengthy wait time. Organisations taking advantage of virtual queuing technology include the Australian Taxation Office, QSuper, iiNet and Qantas.
Originally used just to eliminate call wait times, virtual queuing has now evolved into a multi-channel offering which creates revenue opportunities as well as operational efficiencies. By offering a better interaction experience – one that cuts back waiting and repeating information or transferring – customers feel more empowered and valued. Customers can begin, or continue, interactions across multiple channels without starting again and with the support of a better-informed agent.
Virtual queuing can be delivered on-premise or as a cloud service. By enabling the transfer of context data, virtual queuing applications can work across most channels like phone, mobile app, web interfaces, in addition to emerging channels like smart TVs.
Features to look for when selecting a virtual queuing solution for your contact centre

Wait time
The application should quote an expected wait time for callers.
Call back option
Offer the caller an option to schedule a call back at a time that is convenient for them.
Monitoring
Real-time monitoring of call information and statistics (preferably via a Web-based user interface).
Time flexibility
Flexibility to react to different business and time-of-day conditions like "business hours". This prevents calls from building up in the virtual queue on busy days.
Multi-channel
A cross-channel experience with convenient call back connections. This reduces customer effort by providing an easy way to request a call back from the channel customers are in such as a mobile app or Web page.
Architecture compatible
Look for a virtual queuing solution that integrates well with your equipment and is standard enough to move with your contact centre equipment or services in the event of a migration or move to the cloud.
How well is virtual queuing received by customers?
According to one market vendor, when given the option, customers chose to receive an automated call back nearly half (47%) the time.
Process improvements expected of virtual queuing include average times to answer being reduced by more than half during periods when virtual queuing is greeting callers and big reductions in callers abandoning the queue altogether.
Virtual queuing applications can not only reduce call waiting times and improve customer satisfaction, but can also be a source for contact centre business intelligence.
Metrics which measure how the solution is performing and what the impact is on customer experience are crucial for realising the value of virtual queuing. That includes abandon rates, repeat calls and average speed to answer. That's not to mention the analytics within the virtual queuing engine itself.
Pricing for virtual queuing is typically per port with the cost determined by the volume and size of the customer requirements. The solution is also available as cloud software as-a-service.
Virtual queuing is becoming strategic for contact centres which must have the capability to service people promptly and at the same time optimise the call handling process. Today's customers are looking for more immediate attention, and being called back by a business at a convenient time helps develop a feeling of trust and value.

Find out more about Virtual Queuing Solutions

Related Content