10 green approaches to Lead Generation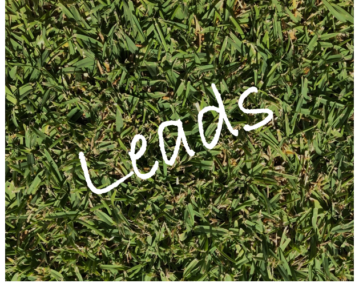 Once upon a time, direct mail, letterbox drop and print advertising were the primary forms of marketing. While companies have not abandoned these paper-based approaches altogether, there has been a steady shift towards more environmentally friendly marketing options. Here we review 10 "green" approaches to lead generation which don't involve paper!
Proactive web chat
If you have a website and are wondering why more visitors aren't converting to a lead, then proactive web chat could be the perfect solution. Proactive chat allows you to pop up a chat window based on pre-set algorithms (such as time spent on site, or visitation to specific pages), and engage with all those anonymous visitors to your website in a personalised way.  Customer satisfaction and net promoter scores are typically higher with chat than phone, email and other channels of interaction. If done well, consumers don't find it "creepy" that you intercept their session on your site, rather they appreciate the friendly offer of assistance. In fact, consumers are coming to expect this level of high-touch assistance, as chat becomes more the standard than a differentiator. Proactive chat allows you to capture customer interest and leads instantly. You can either purchase chat software and manage this internally, OR you can sit back, relax, and have a third party vendor manage the proactive chat service for you, around the clock.
Telemarketing
Telemarketing has been around for decades, and while the popularity of cold-calling has faded in some industries (such as energy and telco), it is thriving in others (such as B2B appointment-setting). In order to successfully generate leads through cold-calling, you need more than just a strong offer and capable telemarketing staff – you first need to buy or rent a quality list from a list vendor you trust. The list must of course be washed against the Do-not-call Registry and attention must be paid to compliance in any product disclosure scripts. To make cold-calling cost-effective at scale, call centre dialler software is normally used. This automates or semi-automates the dialling process, cutting out time wasted in dialling manually only to receive voice mails or busy signals. 
Increasingly, telemarketing is the second step in a two-step lead generation process, where the first step is to pull customers in to register, sign up or express interest via digital marketing campaigns. Telemarketers then call back these leads to qualify them and/or close a sale. Conversion rates are obviously much higher in this warm calling scenario versus old-fashioned cold-calling.
Telemarketing is one of the most outsourced contact centre processes due to the expertise, technology and compliance required to make it work.
Kiosks
We've all seen kiosks in shopping centres, with energetic kiosk staff trying to capture the interest of passing shoppers. On top of staff wages, kiosk operators pay large weekly leasing fees to the shopping mall management companies. So while this is an expensive way to generate leads, it's effective in capturing foot traffic which may not be accessible via digital channels, while at the same time showcasing the company's brand. Kiosks work well when there is some complexity to the lead generation – for example, demoing a new technology, or explaining a financial product. The high average value of these leads can more than compensate for the cost of running a kiosk. As with telemarketing, outsourcing of face-to-face sales in kiosks is often the preferred approach.  
Social Media
Leads can be generated on social media through free and paid strategies. Paid advertising is effective on sites such as Facebook and LinkedIn, as you are able to specify down to a very granular level what audience you want your ad to appear to, and then only pay for clicks from such target customers. It's possible to define your budget per day, per click and for the campaign in total.
For B2B marketing, LinkedIn reigns supreme as a goldmine for lead generation. Leads can be uncovered simply through a search by job title, location and industry. Active participation in groups where your target audience is "hanging" is also a great way to generate contacts. See LinkedIn's interview with Matchboard for more tips on how to use this channel with a marketing budget of zero!
Google Ads
For most businesses in English-speaking markets, search engine marketing = Google Ads, whereby you pay for clicks on your ads that sit on the top or to the side of natural search results. Search Engine Marketing (SEM) is one of the fastest and most easily scalable lead generation approaches, however, get it wrong, and you will burn through your budget in no time. It's important to remember that even the most effectively designed ad on Google will fall flat unless the landing page or website it connects through to is optimised for conversion. Digital marketing agencies are well-placed to manage Google ad campaigns if you don't have the skills inhouse.
SEO
Unlike the immediate gratification of SEM, Search Engine Optimisation (SEO) is a longer term strategy, which can be significantly affected by updates, or changes in algorithms, which companies like Google periodically issue. If successful, that is, you are appearing on page 1 of search results for the desired keywords, SEO can be the most cost-effective way to generate leads. Today's SEO is an art form, with results dependent on the quality of the content sitting on your website. Metrics such as time spent on page and bounce rate are critical in letting search engines know that you have valuable, engaging and relevant content.
Content downloads
One of the most popular ways of B2B lead generation is for companies to generate leads by enticing their target audience to request content, whether in the form of white papers, reports, ebooks, or infographics. Brands with high quality content are more trusted and more likely to engage leads in meaningful dialogue. For consumers who are interested enough to sign up for a newsletter, pushing content out on a regular monthly basis can tip the consumer over into lead status in the sales and marketing funnel. (Click here if you'd like to sign up to Matchboard's monthly newsletter, showcasing thought leadership and new offerings in the sales, service and digital space!) 
Referrals
Referrals or recommendations are often the highest-converting leads a company could ask for. Referral programs are popular in both B2C ("refer a friend") and B2B marketing. In the consumer space, a fee per sign-up is popular (eg. "By joining the GoogleApps Referral Program, you'll receive A$15 for every user who signs up using your link."). With B2B, structured referral partner programs and agreements are commonplace, with a commission on sale being the preferred model. (Example: visit Matchboard's Referral Partner FAQ.)
PR
Public relations (PR) is often cited by cash-poor startup entrepreneurs as the best-performing source of leads or sales. Through carefully crafted messaging to the mainstream or trade media, it's possible to get free editorial coverage which can have a viral effect spilling into social media. What you need is the knowhow around how to approach editors and excellent business copywriting skills. Consider hiring a PR agency, media consultant or freelance journalist to assist.
Events
Conferences, tradeshows, business lunches and other networking events can be fertile ground for lead generation over a compressed one or two days. It's interesting that many conferences are moving to an all-digital "green" format, with no delegate satchels or brochures dropped on seats, just everything managed through the event app and at the individual exhibitor booths. Conference organisers are starting to play a more active role in generating leads for sponsors by matching them with delegates for one-on-one meetings.
No matter what type of lead generation activity you select, it's important to define clear goals and measure the ROI for each channel and campaign.
To discuss lead generation options for your business, contact us and we'll be happy to make some recommendations!