8 reasons to keep an eye on Sri Lanka for Finance & Accounting Services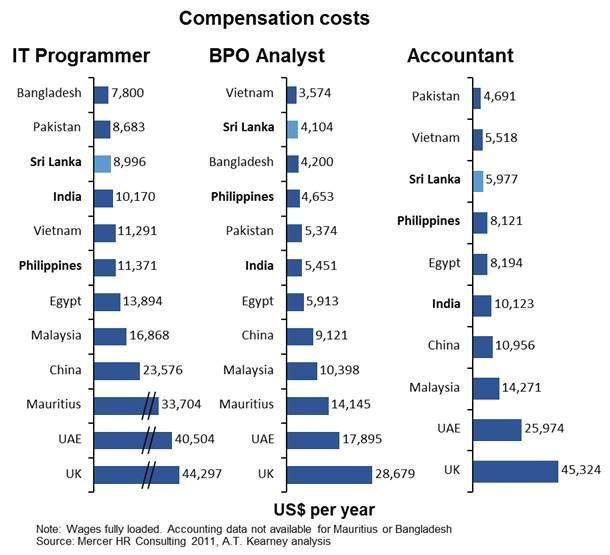 Australian businesses have an increasing array of choice when it comes to low-cost locations for business process outsourcing. Each country has its unique focus and strengths. For finance and accounting outsourcing, Sri Lanka has emerged as a very compelling option, and here are eight reasons why.  
1. Global rankings 
Sri Lanka is ranked 14th on the A.T. Kearney Global Services Location Index and 16thon Tholons 2016 Top 100 Outsourcing Destinations. Sri Lanka has also been recognised by Tholons as a Global Center of Excellence for Financial Accounting Outsourcing (FAO). These analyst reports provide independent validation of Sri Lanka's blended value proposition including cost competitiveness, skilled labour and quality infrastructure.   
2. Cost effectiveness
India and the Philippines have been the go-to countries when it comes to offshoring.However, Sri Lanka offers remarkably low costs to value: 10% lower than India in IT and 20% lower in BPO, according to A.T. Kearney. Wage inflation and staff turnover is also lower in comparison.
Quality infrastructure is cheaper in Sri Lanka. As a result, several BPO companies are housed in buildings such as the World Trade Centre (unthinkable in cities such as Mumbai), while dedicated IT/BPO industry parks have ample capacity.
3. Knowledge and expertise 
Driven by an education-focused culture, Sri Lanka has an unusually high ratio of graduates in accounting and finance disciplines. Most Sri Lankan service providers are certified in global software packages such as Xero, QuickBooks, MYOB and SAGE, allowing for smooth online back-end integration with accounting platforms and financial systems. The country also boasts high levels of literacy, English language proficiency (thanks to its history as a British colony) and Australian-qualified graduates.
4. Ground sales and support
Sri Lankan business presence in Australia is strong. Many Sri Lankan companies have representatives in Australia who are responsible for client relations and account management. The Sri Lankan government also organises business delegations to attend the Gartner Symposium/ITXpo and other networking events in Australia.
5. Connectivity and information security
Confidence in connectivity and data security are vital components in offshoring. Sri Lanka's state-of-the-art infrastructure and IP security places it in Asia's top ten in the Network Readiness Index (NRI). With five sub-sea cables, improved transport infrastructure, and the first country to attempt island-wide internet through Google Loon, Sri Lanka is at the forefront of countries offering business processes as a service.
Sri Lankan vendors have a track record of success remotely managing financial operations through cutting-edge IT systems, efficient practices and a highly-qualified workforce.
6. Government support 
There is no lack of government support for the nation's outsourcing efforts. With a goal to make Sri Lanka a world-recognized offshoring centre, the government has pledged US$70 million to invest in digital infrastructure to further advance the outsourcing economy. According to the Information Communication Technology Agency (ICTA), the tax and investment benefits for foreign businesses and the safe legal environment have given financial giants such as HSBC, CAMMS and IFS the confidence to establish service centres in Sri Lanka.
7. It's safer than you think 
Three decades of conflict are now over and today, the risk of terrorism in Sri Lanka is the lowest in South Asia (and less than the UK or China). Homicide levels are also relatively low and safety is high. As a result, Sri Lanka's tourism industry and foreign direct investments are also on the up.
8. Ease of travel and communication 
The two and a half hour (Perth) to five-hour (Sydney) time difference means Sri Lankan service operators can pick up their clients' data as they close for the day and deliver it in time for the following morning.
Although there are no direct flights between Australia and Sri Lanka, there are five connecting flights a day from Australia's main cities, with an easy transfer in Kuala Lumpur, Bangkok or Singapore. Visas are issued in advance or on arrival, making business travel convenient
Related Content
Fiji as a Contact Centre Hub (white paper)
Contact centres in the Philippines – surprising facts
Contact Centres in Australia