Call tracking through Google: where the contact centre and digital worlds meet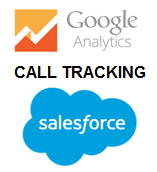 According to Google, 61% of mobile searches result in a phone call, while xAd says that 52% of all mobile ads result in a call. These numbers are only increasing thanks to the explosion of smart phone usage. For marketing and call centre executives, the opportunity here is to integrate reporting so that calls resulting from an online search or campaign can be tracked, and digital ROI can be accurately measured. To put this in perspective, inbound calls convert 10-15 times better than web leads, and with pressure on businesses to justify every dollar of marketing expenditure, correlating call and web data is a slam dunk.
Thankfully, the technology to track calls from search engines and websites is readily available and quick and easy to implement.  How it works is that every caller from your digital assets is allocated a unique number, which allows for data to be collected on the customer's behaviour before, during and after the call.  For example, which keywords did the customer enter prior to reaching the call centre, which URL are they calling from, where is the customer located, and what device are they using to call. In addition, you can identify the customer's phone number (unless blocked) and average talk time – by campaign. 
In a nutshell, call tracking gives you "holy grail" data to determine which ads, campaigns, channels and keywords deliver calls, conversions and sales.
Another upside of this reporting, integrated with Google Analytics, is greater collaboration between the contact centre and marketing departments, to meet overall business goals. Too often, sales, service and marketing operate in their own silos, blaming each other when targets are not achieved.  In today's multi-channel world, where customers move effortlessly from online to offline to make an inquiry, companies must implement a more integrated approach to tracking and managing the customer experience. Call tracking is one element in this new world.
As reporting is cloud-based and real-time, conversion data showing number of calls and the value of sales by call source is available live.  So a non-performing campaign can be instantly pulled or call scripts rejigged to optimise results. Further, the phone number for one campaign can be routed to a different set of agents to another campaign to compare results or provide specialised call treatment.
Call tracking in conjunction with Google Analytics is a fast way to improve marketing ROI, derive and action customer insights, and enhance customer experience.  

If you'd like to explore this technology, email us. 

Related Content