Customer feedback platforms – what's trending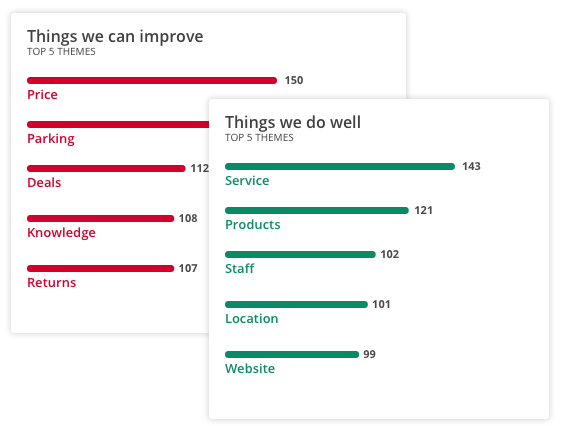 Customer feedback technology is used to measure key CX metrics – such as Net Promoter Score (NPS), customer effort and customer satisfaction. The purpose is to gain insights to improve the customer journey at all touchpoints and across all channels. Customer survey platforms are now standard for most businesses, so the trend and differentiator across vendors is the depth of analytics and reporting features for multiple personas in an organisation.
With customers increasingly making purchasing decisions on the experience an organisation offers – rather than on product or price differentiation – the ability to measure and improve that experience has become a key operational asset.
Understanding the voice of the customer requires a methodical approach to gathering customer feedback in a consistent manner, and measuring the key metrics.
Multi-channel customer feedback
Organisations interact with customers and prospects across many channels – face-to-face, via the website, social media or the contact centre. There are just as many channels that can be used to solicit customer feedback either proactively or following an interaction.
Gathering customer feedback is a customer interaction in itself, so it needs to be a good experience like any other.
Stay relevant – use dynamically created surveys that account for the context of the interaction being measured, and take advantage of cognitive and machine learning to create better questions.
Multi-channel – not all customers want to answer immediately after an interaction, so choose the right channel and the right time; ensure the experience is simple, quick, and seamless for the customer, and don't let technology limit you.
A good customer feedback program will be designed to get high response rates – giving you the richest data set possible – and ensure that the information gathered leads to actionable insights.
A good platform also allows for this feedback to reach the frontline teams – for example, contact centre team leaders, store managers or branch managers. This allows for frontline teams to understand, act and recover a bad customer experience in a timely manner – adding to retention and customer delight.
What to measure and analyse
Your decision of what data needs to be collected is informed by the metrics you want to measure and whatever other types of analysis you wish to perform.
Customer feedback is mostly used to measure Net Promoter Score (NPS) and customer advocacy, Customer Satisfaction (CSAT) and Customer Effort (CES). This empirical data gives you an at-a-glance view of your operation's performance, which can be broken down by channel, team, department, product and agent.
To know what to improve, however, you need to go deeper.
Customer feedback data should be combined with operational data – such as interaction times, conversion rates, wait time, number of contacts or visits to resolution and so forth – to build a richer picture.
In addition, text analytics on customer conversations can tease out customer sentiment and intent. These additional layers allow you to see what's behind your headline metric scores so you can understand what areas need to be improved and predict the impact of your changes.
Technology deployment options
Customer experience feedback technology is available on-premise or as a cloud service and should be agnostic to the type of backend systems it is used with. As with many cloud services, implementation can be very fast, and 'as-a-service' pricing gives you monthly flexibility.
Once up and running, the customer survey platform should be intuitive enough for administrators and supervisors to configure and operate it with no need to call the vendor for routine changes.
Features to look out for in a customer feedback application.
Ability to automatically trigger surveys based on a particular customer interaction e.g. purchase, return, enquiry.
Flexibility to tailor and brand to ensure trust and simplicity
Multi-channel for optimal reach & relevance (email, SMS, phone, in-app, bot)
Easy agent access to feedback data to act and learn from
Ability to slice and dice feedback data to get multiple layers of insights
Ability to analyse unstructured text based data
Web accessible, real-time reporting and notifications
Open to third-party app integration through API (eg. CRM, contact centre systems)
Overlaying of interaction and operational data for analytics
Machine learning for creating better questions and dynamic surveys
What improvements to expect
A customer feedback platform integrated with operational systems and enriched with text analytics and machine learning capabilities brings immense benefits.
Make performance visible – tracking the key customer feedback metrics lets management, supervisors and agents know how each part of the organisation is performing from the perspective of customers at all times. The ability to dive into that data enables areas for improvement to be immediately highlighted.
Understand customers – knowing why customers give you the scores they do gives you a powerful lever to make the operational changes that will move those scores in the direction you want.
Take actions quickly – feedback and insight can be pushed in real time to frontline staff, enabling them to understand customers, recover bad experiences, and make changes to improve performance. Needless to say, the impact of those actions can also be measured quickly and fed back to the frontline to create a closed loop system.
Expedia puts itself in the shoes of its customers
Expedia ANZ set out to differentiate themselves by understanding what their customers love about their brand and create memorable experiences for them. Understanding their post trip customer experience, and the key satisfaction and dissatisfaction drivers, enabled them to see what their customers loved and key areas of focus for the business.
The survey started with brand advocacy questions and then went deep into various travel segments and also gathered verbatim feedback and scores. Numerous channels were used, including the creation of a 2-minute conversational AI survey. Text analytics enabled the data to be sliced and diced and displayed in multiple reports, including in a mobile app for execs.
or contact us via your preferred channel.