Technology
Gamification in contact centres – best practices and business benefits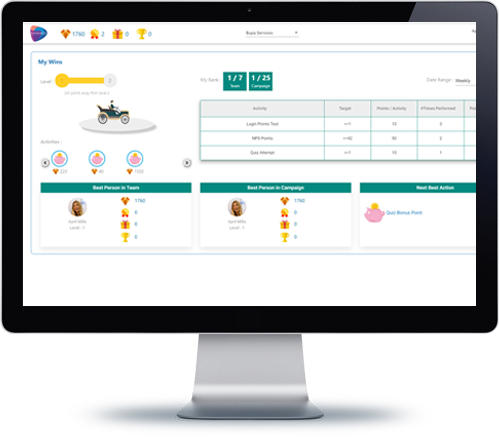 Gamification in the contact centre brings together an effective platform and techniques that improve employee engagement, to help businesses achieve their commercial and customer experience targets.
Effective games are structured on behaviours, with intelligently defined goals and rules for how to go about achieving them. That doesn't stop them being fun, of course. The point about games is that the rules and objectives encourage certain behaviours.
The same idea can be applied to non-game activities in order to incentivise desired behaviours. In an office environment, such as a contact centre, gamification can be used to motivate agents, engaging staff to follow the right processes, and celebrate achievements.
Business benefits of gamification
Agent engagement: In many contact centres, staff are following scripts and taking similar calls time after time, which can become a little dull and they go on 'auto-pilot'. Not only does this lead to poor service and results, it also inevitably means high agent turnover and absenteeism, which has a knock-on effect in workforce management, recruitment and customer service training costs.
With a gamification program, managers and team leaders can monitor performance and provide agents with instant feedback and rewards which are publicly recognised. Coupled with the capabilities for Centre Managers to understand and manage the performance of team leaders, the idea is to put the interest and fun back into work.
Align business objectives with behaviours: When agents achieve certain goals in the 'game' they are also helping the company meet its performance goals. Performance targets to improve can include:
Sales conversion rates
Sales per hour
Net Promoter Score
Average handling time
First call resolution
Compliance
Train and empower agents: Agents are much more engaged when they are allowed to develop their skills and use these to solve problems for customers, rather than following rigid scripts.
Gamification elements can be included in training, particularly if the company has an e-learning system that enables agents to learn at their desks. They could then gain points and rewards for completing modules and passing tests.
How to set up gamification
Target setting: Just as every game has a well-defined objective, so should every gamification program. Only with this goal – or goals – in mind can you decide which metrics you need to measure and improve, and thus what behaviours you need your game mechanics to encourage.
Games are only fair when they are transparent, so it's important that players and spectators alike agree on the rules and can track the scores in real time. The KPIs you choose as a way of keeping score, so you will need to tap into your QA tools like interaction analytics, call recording, and quality scoreboards. Sales metrics and soft measures such as customer satisfaction could also be targeted.
Game mechanics: The purpose of a game's rules is to constrain the choices players can make with the purpose of pushing them towards achieving the goal of the game – score so many points, take the opponents' pieces, beat the final boss.
Your game can be of almost any type imaginable, as it long as it is engaging, fun and motivating for agents to take part in. You can even create team rather than individual games, which encourage people to work together and motivate one another.
Contact centre games can be run in specially designed software or cloud services, or on a bespoke system devised by management. While this can be as low-tech as a couple of whiteboards to track scores, off-the-shelf gamification platforms allow for sophisticated rules and real-time tracking and are more engaging for users.
Rewards: Some people are motivated to win for the sake of it, even if there is nothing tangible on offer. Most agents, however, will want to be working towards some sort of reward. This doesn't have to be a winner-takes-all-prize, but could operate more like a rewards program where everyone who reaches a certain level gets a bonus or reward.
Whatever you choose, it's important that the rewards fit in with and reinforce your company culture, otherwise your gamification program could do more harm than good – for example if you have a service-led culture you don't want to encourage sharp practices by over-incentivising agents to close sales.
Best practice
Business goals are the ultimate objective and success must be measured against these. It's important that managers and agents alike focus on those and not get too caught up in creating or playing the game, as fun as it is.
When designing a program, it's best to target just one or two goals rather than attempt to solve every business challenge at once. Instead have several games, each of which targets a different key metric, and rotate them to keep everyone fresh and on their toes.
If you're not careful, team leaders and managers might find themselves spending more time running the game than managing their teams. There are many gamification platforms that can integrate with your existing systems and automate much of the process.
Integration of the gamification platform with your QA, reporting and analytics functions not only enables you to 'keep score' in your game, but also helps you understand the impact that gamification is having on the operation, often in real-time.
or contact us via your preferred channel.