Robotic Process Automation (RPA) in contact centres – your questions answered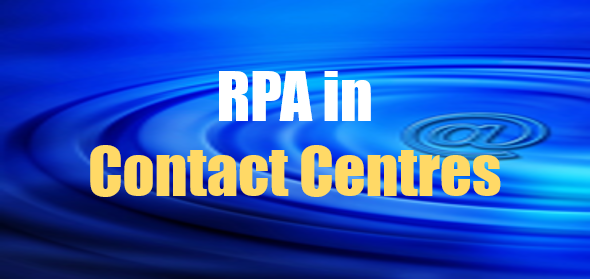 When most people hear about bots in contact centres, they think chatbots. These are the customer-facing bots that automate online conversations and give customers answers to their questions. However there's another type of robot which can be deployed in contact centres, just "behind the scenes"! This is known as Robotic Process Automation (RPA), and is fast becoming a competitive requirement to stay efficient. We answer the how, what & why of RPA and share typical RPA costs and an implementation approach to help you get started.
How can RPA be applied in a contact centre environment?
RPA is software installed on a desktop to emulate what an agent would do. It works on processes with clear business rules, data inputs and of volume equivalent to more than one person's workday. While the robot works on the low value administrative work, the agent is freed up to focus on problem-solving and nurturing the customer relationship. This comes in two flavours: attended and unattended bots.

Contact centres have a great working model for RPA, managing the robots in a similar way to human agents. For example, a robot needs to be "recruited" (there are many vendor "candidates"), trained to perform the business processes, managed for exceptions, quality assurance and continuous improvement. On the flip side, robots do not require incentive programs, HR issues management, performance reviews or attrition resulting in IP walking out the door!  The IT team also has an important role to keep the robot in good health with change management, security and RPA upgrades. As the contact centre owns the robot, it configures automated processes as and when the business and customers need it. 

Robot(s) are in some cases replacing process improvement, outsourcing and offshoring initiatives. They work 24×7, at machine level accuracy, more quickly and at a lower cost, driving up customer satisfaction and reducing business risk. 
3 use cases of RPA in contact centres
Not every process is a good candidate for automation, but here are three simple examples of RPA in action.
Information Entry and Management
Change to customer information is a common contact centre request. Typically customer information needs to be verified, replicated in multiple systems, tested, and confirmed with the customer before a satisfaction survey is sent out. A robot can execute this more accurately and rapidly. With an attended robot, the human agent can trigger the robot to change information while on the phone and confirm it was all done helping to improve employee and customer satisfaction.
Transaction execution
Let's consider the process of placing or updating an order. Often this requires information to be looked up, collected, verified, sorted, filtered, formatted, submitted into multiple systems to place the order, stakeholders notified, approvals confirmed and the customer updated once completed. A robot can take care of these steps, without forgetting to follow up, and with greater accuracy and speed. A robot can also notify the business of exceptions that need agent intervention ensuring all customers are serviced. This removes risk in the business.
Proactive Services
Proactive services are activities that were previously too costly or slow, making them prohibitive. Volume drivers in the contact centre are a good place to identify these service needs. An example is of customers wanting a status update. A robot can check on the status of a service, delivery of product and proactively take action should there be an issue. Another example: a robot can monitor appointment adherence if a company is delivering services to a customer in their home. If the field representative is running late, the robot can notify internal stakeholders, keep the customer informed, and help adjust the schedule to ensure the customer receives their promised service. The result is a reduction in inbound volumes and improved customer satisfaction levels.
The business case for RPA
The core business case for RPA is cost savings and improved customer and employee satisfaction, while reducing business risk. Businesses can release staff capacity to improve response times or move people into revenue generating work and key projects that amplify the benefits of RPA. Organisations are using improved accuracy and regulatory compliance to reduce downstream business cost and risk. The top 6 benefits are: 
High efficiency. Costs less than an agent, operates 24×7 and processes transactions in a fraction of the time a person would, vastly reducing cost per transaction.
High accuracy and compliance. Consistently executes processes at machine accuracy levels (99%+). Helps to deliver to compliance requirements.
Rapid to apply and scale. Contact Centre can configure the robot to execute the processes as customers & business need them. You can scale a robotic workforce in minutes.
Low risk. Does not require integration, is governed by IT as another application in the existing environment ensuring effective management. Accuracy, scalability, reduced HR issues & IP retention all reduces business risks.
Employee engagement. Assists people to focus on more interesting, creative and engaging work. RPA is a tool that enables agents to deliver solutions rapidly to the customer, improving their delivery & job satisfaction.
Customer benefit. Robots are able to reply 24×7 with greater accuracy and releasing agents to do more customer benefiting activities. Agents can focus on the customer needs rather than tedious manual processes.
Timeline and cost to run an RPA pilot
RPA can be qualified, assessed and put into a pilot or proof of concept within four weeks and at a cost of around $20,000. Once proven, a project to implement RPA sustainably by the contact centre can be delivered in as quickly as two months. In this time, benefits are realised and the future roadmap of processes established, to ensure ongoing ROI. While the cost of the implementation is dependent on specific needs, $130,000 is an average investment. The deployment includes the robot(s), implementation, handover and post implementation support. This investment has a typical payback period of six to eighteen months.
Diagram 1: Holistic assessment, design, implementation and management service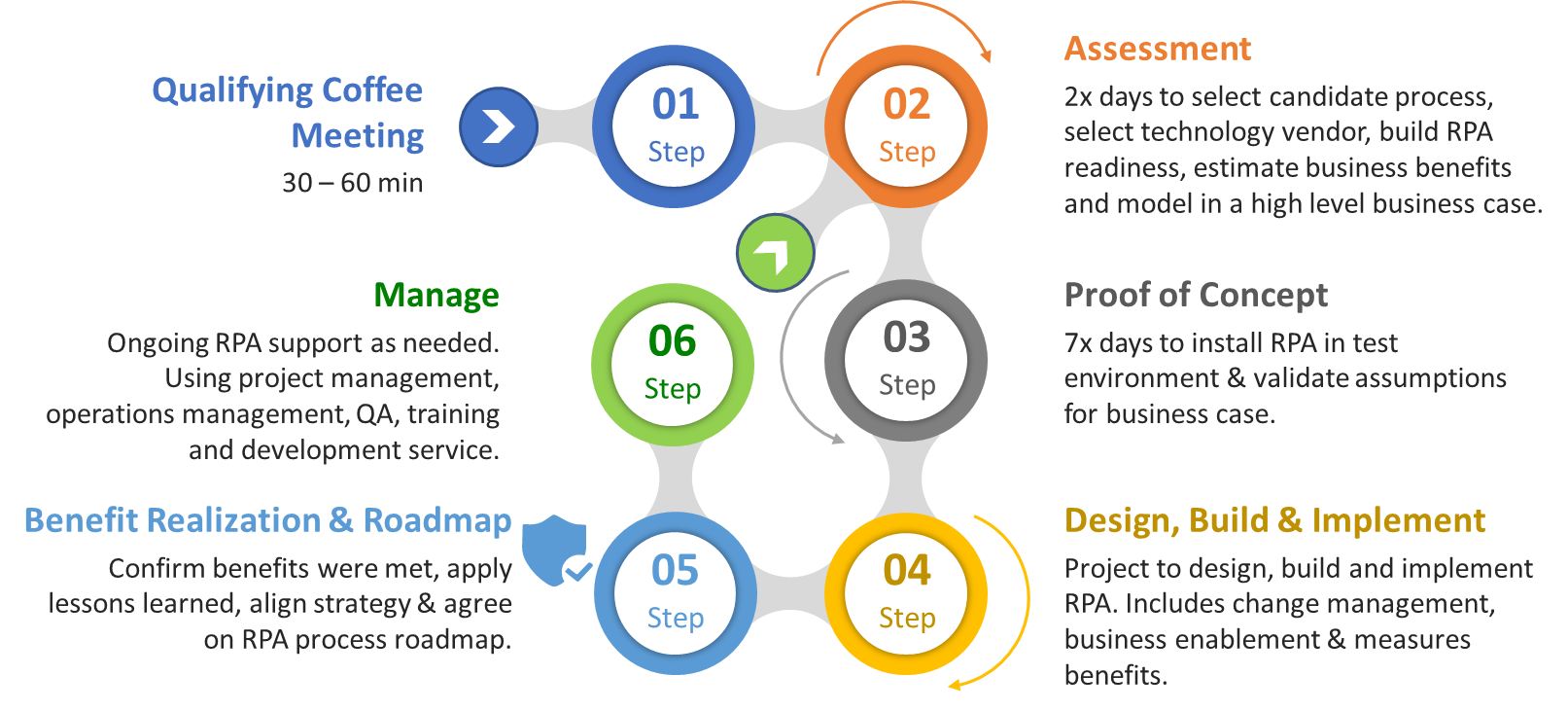 RPA deployments can be implemented with low business risk and high business control. The initial step is to determine whether RPA is appropriate for your contact centre, and in most cases you can establish this without cost over a 30-minute coffee. Once confirmed that RPA is relevant, use a step by step process with logical decision gates, as illustrated above. This provides your centre control to co-design the next steps and invest only as the measurable benefits are realised. The outcome is a controlled RPA project with a rapid return on investment.
RPA current and future adoption
Gartner, BofA Merrill Lynch Global Research estimate 40% of global organisations will adopt RPA by 2020. RPA is recognised as a required technology to remain competitive. Early adopters will be rewarded with competitive advantage.
In Australia and New Zealand, adoption of RPA is low with surveys suggesting less than 1% of contact centres deploying RPA. The estimates (gained from a recent IQPC conference) are complicated by companies who consider deployments a strategic advantage, keeping them secret. Interestingly, there are thousands of RPA bots deployed within workforce management and call centre telephony technology. So your centre may already have RPA embedded in it, without you realising.
Future adoption
RPA deployments in Australia and New Zealand are needed, since our labour cost and customer demands are higher than most other regions. Within five years, we expect over 70% of centres to be using RPA. The adoption initially will be driven by the financial and customer benefits and rapid deployment potential. Subsequently, the technology will become more compelling for more organisations with increased availability of skills, robots as as service, integration with machine learning, Artificial Intelligence and other contact centre technology. Finally, many not applying RPA will find the business non-competitive and have executive pressure to apply it.
What are the next steps for my contact centre and RPA?
Identify if you have a process or processes that can be automated. Qualifying them if they can be documented into business rules, have digital inputs and consume the workload of one or more people.
Learn from the experts with specific experience in RPA in customer service environments.
Build confidence that RPA will work for you by assessing RPA and a high-level business case.
Get started with a pilot.
Related content
Virtual agents, chatbots and the future of customer engagement