Warm up your Customers On Hold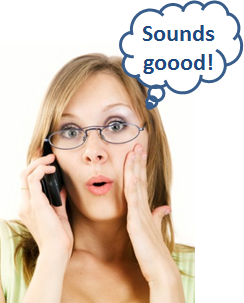 Let's face it, first impressions count. And when it comes to contact centres, often the first impression is created not by the contact centre agent, but by the message the caller hears while waiting patiently in queue.  When you consider the statistics that most people hang up after periods of silence of 45 seconds, it's a slam dunk to design compelling in-queue/on-hold messaging which warms up customers while they wait. 
Messaging should convey the essence of your brand, and is an opportunity to share so many things, from feel-good charity initiatives to relevant marketing offers and customer event information. Playing radio, or having no messaging at all, may not only come across as unprofessional but, more importantly, is a wasted opportunity to communicate with customers in a captive setting.
Prospective customers are often calling to learn more about your products and services, so are receptive to information about the latest offers. And for existing customers, a good message can boost confidence in your company and reinforce the professionalism of your customer service.  A "good message" also means expert script-writing with compelling and entertaining copy.  For organisations with a large non-English-speaking customer-base (and with 30% of residents in Sydney and Melbourne not speaking English at home, that's typically a significant segment of any large consumer marketer), in-language messaging is key.
While all this may seem very basic advice, having a carefully crafted on hold/in queue messaging strategy is actually a competitive weapon, since so many companies do it poorly.
Messages are not just informational, they also create a state of mind through the combination of engaging voice talent and music.  Even the best marketing offers will be lost if you are rushed to record your own voice with low quality equipment.  Through auditory perception, callers conjure up an image of the person whose voice is in the messaging – they may associate the voice (and background music) with characteristics such as fun, intelligent, strong, attractive, and it's important that these are an accurate reflection of the brand values you wish to project.
Few companies have the internal resources or know-how to write and produce professional voice messaging in-house. However when using an agency, it's imperative to collaborate closely with all the relevant departments, from marketing and PR contact centre management, to maximise this golden opportunity for customer engagement.
Contact us to connect with a professional voice talent and messaging company.