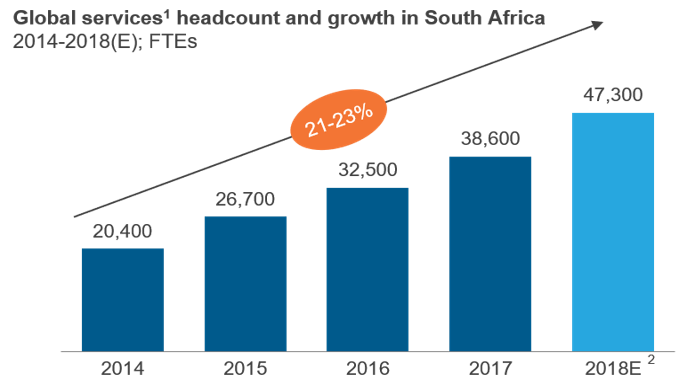 The global services market in South Africa grew at a rapid rate of ~22% annually over the past four years. Australia is a key engine of this growth representing 25% of contact centre seats outsourced from international markets.
Join us for a lunch presentation of the latest research from Everest Group, where you'll learn the surprising facts and figures about South Africa as a world-class BPO destination, including:
a 50% cost advantage compared to Australia. The cost of office rental in Cape Town is less than Manila!
The vast pool of English-speaking talent includes deep expertise in financial services – South Africa has more actuarial graduates than India, and is ranked #1 in the world for auditing standards.
We'll also share an overview of
the 3 major cities for BPO (Cape Town, Durban, Johannesburg)
niche capability in analytics, AI, automation and legal services
Government and industry incentives and support
Australian and global brands already outsourcing to South Africa – Amazon, IAG, iSelect, iiNet, Vodafone, Qantas, Simply Energy, American Express