CX
Interview with Aussie global CX superstar – Sam Youssif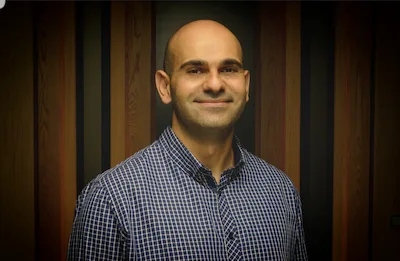 It's not every day you come across an Aussie running a global CX function for a Fortune Global 500 company.  Based in Sydney, Sam Youssif is Global Head of Customer Journey Digitisation at Schneider Electric (SE), and here he shares how he does it.
What is it like being based in Australia running the global customer journey digitisation function of a European multinational?
It's a matter of mindset and getting back to what you know works – healthy routines.
Juggling various time zones out of Australia is arguably the most difficult aspect, but it can also be very rewarding. Let me explain, with some tips which have worked for me:
Set normalised boundaries of how far into the evening you're willing to go, ensuring key people you work with are aware of these, and from time to time (by exception), where absolutely required, be flexible
Maintain healthy habits by exercising, eating well and maximising the sunshine when most of Europe is asleep
Utilise the time zone to your advantage. During the Sydney day, most of the other time zones are not working. The constant meetings, discussions and teams chats are not there, so I utilise this time for uninterrupted thinking, which allows me to work on items such as planning, preparations for steering committee discussions and upcoming meetings
Lean on supportive teams and key stakeholders who have a genuine interest in ensuring I turn up as the best version of myself – this includes working at hours within reason and not attending a 2am meeting.
Can you share exactly what Schneider's digital experience unit covers?
Our Digital Customer Relationship team primarily consists of 3 pillars:
Pillar 1 – accelerating digitisation across the various journeys of our multiple customer types
Pillar 2 – developing sales coverage for the digital age
Pillar 3 – leveraging data and insights via better customer knowledge & enhanced business generation.
What are the technology trends you're seeing in digital customer experience?
There are a few interesting and growing trends that are appearing lately. To name a few:
less 'big bang' with a decrease in multi-year development projects
appetite for more experimental style projects ('Pilots/POCs') which provide a fail-fast approach, which is more attractive for key decision-makers
increased customer involvement in the decision making of the roadmaps and in the user testing prior to going into production
NPS (Net Promoter Score) /NSS (Net Sentiment Score) are everywhere, with good intentions from organisations which have a genuine desire to improve the customer experience, however I think we've reached a point of saturation and need to find alternative ways
a shift in approach towards less technology for technology-led projects and more customer-first led projects, with the right technologies becoming the enablers
technology rationalisation to facilitate the entire users' journeys in a consistent manner
all digital experiences performed in a highly secure and compliant manner.
Free Guide to Technology for Contact Centres & CX
How did your customers' digital adoption change during COVID?
With reference to our sales force and account management teams, where most interactions historically were face-to-face, we saw a significant shift to digital interactions, and in most of our geographies, this has continued and in some areas is even growing. As it's working for our customers and for our teams, we continue to invest in this area.
What is/are the top KPI(s) for digital experience in your world?
Never an easy question to answer as it really depends on which part of the journey you're trying to solve. Some guiding principles are:
Always keep an eye on the customer
Avoid back office KPIs to drive customer related KPIs
Know the difference between a lagging and leading KPI
Just because you can measure it doesn't mean it's a KPI
Have the right level of cadences and disciplines in place to address KPIs which are not where they need to be
Be realistic in your goal setting and be sure to celebrate achievements along the way.
Which company provides the "gold standard" for digital experience in your opinion, or is that Schneider? 
We all know that digital customer experience is the main competitive advantage in today's market. And the brands that move faster and with agility and get this digital transformation right will be the winners. We can see that most companies are making big progress in this direction, including Schneider. In the years to come, we'll be able to conclude which ones understood best today's customer needs in the digital space. 
Download: CX contractor rates in Australia