Top tips for web chat etiquette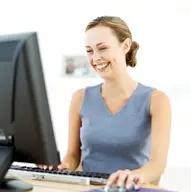 An executive from Australia Post recently stated its contact centre was converting telephone customer service agents to digital agents at the rate of 12-15 people every two months.  Such is the growth in consumer demand in using email, social media and web chat to communicate with companies.  However, it's unreasonable to expect telephone customer service agents to be equally as comfortable and skilled in digital channels, without any customer service training. Matchboard's trusted training suppliers share here some tips for web chat (also known as live chat) etiquette.
Chat customers are different from email customers in that they expect an agent to address them almost immediately.  Anything more than an agreed acceptable interval (eg. one minute), and the chat should commence with a quick "thank you for being so patient" or "sorry for the delay".
Web chat is also different to SMSing, social media or instant messaging because the style is typically more business-like.  However a company should establish some basic language style guides which reflect consistency with the brand and culture.
Web chat responses should be concise and agents should resist customer desire for chit chat.  If a non-work related topic is initiated by the customer, acknowledge it and then move back to the request as quickly as possible.
As long as tenses, spelling, punctuation and grammar are correct, full sentences are not needed on a web chat.
Customers can request a transcript of the chat session as a permanent record, particularly useful if the customer is not a native speaker and needs to check the meaning of the advice given – language should be clear and simple and not flowery or jargon.
Content should be presented without emotion or bias – avoid using "I think" or "I believe" expressions and keep the communication factual.
When searching for information on behalf of the customer, there is no need to keep the conversation going by "talking" about other things; explain you will look it up and leave the conversation until you have the information required; if over one minute, get back to the customer and let the customer know how you are tracking.
It's a good idea to agree on the appropriate length of time to wait for a response. When the customer exceeds the agreed time, send one "warning" before quitting the session.
Make sure the customer's request is fully resolved before terminating the session. Often there is a related or underlying issue so ask clarifying questions before ending the chat session.
Agents should have at their disposal a range of canned or semi-canned responses and links to allow speedy resolution of common issues.
Need to cross-skill your team in live chat training? Contact us and we'll be happy to refer you to a specialist training organisation.

Related Content