Consulting
Top tender tips for a winning proposal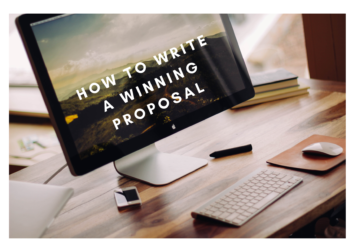 With face-to-face relationship building opportunities declining through Covid, producing a stand-out tender submission has never been more crucial for winning new business. A proposal that effectively demonstrates your understanding of what's required, how you'll provide a successful solution, and a clear picture of what your solution will deliver for the client, are all compelling reasons to choose you ahead of the competition.   
Buyer Behaviour
With most workers and employers implementing a hybrid office or home model moving forward, sales pitches, negotiations and decisions will be done remotely. Many buyers have already expressed a preference for remote engagement over face-to-face interactions because it has made life easier for them to get information, place orders and arrange service, with speed and convenience being key.
Aligning your Sales Approach 
So, how do you bring your skill and expertise to life in words?
Here are 4 top tips to put you in pole position for your next tender response.
Do we go for it?
Writing successful tender submissions is a resource heavy and costly activity so always be sure that you are 'in it to win it' and don't chase opportunities where there is little hope of success.
When qualifying an opportunity, always answer the following questions, being honest and realistic with your answers:
Is it deliverable?
Make sure that you are across all the risks that might potentially de-rail a successful delivery of the contract and plan your mitigation strategy. 
Have you done a similar implementation before in terms of size, scale, timeframe, budget and vertical?
Do you have the resources to fulfil your contractual obligation, or will you need new recruits, new skills, and additional sites?
Can you fund the project, and do you need to partner with a third party to deliver the solution? Will collaboration be seen as a strength or a weakness in your offering?
Will winning the contract impact your existing clients in any way?
Is it winnable?
Imagine you're a contestant on Shark Tank and pitch your solution. Even if the financial investment to deliver a project is minimal, you also need to weigh up the resource and effort required versus the commercial gain. Will the sharks see it as a sound opportunity with a profitable outcome?
Who's the incumbent?  
If you're the incumbent, then you are definitely in a position of strength given your knowledge of operational delivery, culture, vision, strategy, and people. Just remember that there's additional pressure on you to demonstrate how much more you know because you are the incumbent. And your proposition can't stand still when buyers' needs are constantly evolving.
If this is a new business opportunity for you, then look for clues such as case studies and testimonials on competitor websites and tap into the knowledge of your salesperson and other members of the team who might have further insights. If you're not the incumbent, then you need to be sure that you can pinpoint and articulate the pain points and dissatisfaction with the existing provider.
The RFP itself will provide clues as to the legitimacy of the opportunity.
Look out for how much valuable information is shared, even shorter than usual deadlines, and how the buyer responds to your request for information. Reflect on these points and you'll soon decide whether it's a genuine tender process or just a market testing exercise and an opportunity to beat up the existing supplier. 
Will it be profitable?
Throughout the bid process, you'll need to stay on top of the financials to ensure you won't lose money if you are awarded, and therefore have to deliver the contract. As the solution evolves, the commercials will too and so keep checking that your competitive bid will also make you money. 
Things to think about are costs specific to the opportunity such as recruitment and training, increased insurance premiums, set-up, costs associated with financial guarantees.  There are also external factors that can impact such as a mismatch between projected volumes or activity versus the reality in a service-based contract, or changes to government, policy or legislation changes that can reduce or cancel out the need for a particular supplier altogether.
All of this will allow you to paint a picture on whether or not there's a strong case to qualify in, and help you to answer the burning questions:
Can we win it?
Do we want it?
Can we make money on it?
It's hard to walk away from the prospect of a new client but if you don't "Qualify, qualify, qualify," you risk wasting an awful lot of time, money, and effort for zero return.  
What to write and how to write it
Never jump straight in
Preparation is everything. Whatever you do, don't go straight to your laptop, and start typing. Arrange a 'kick-off' meeting with key contributors so that you can start to shape your offering and work through how it meets the customer's needs. This is your opportunity to determine your 'winning strategy' and why your solution will outshine all the others. With all the subject matter experts (SME's) in the same room, it's the perfect time to capture their thoughts and ideas.
The business development or account management team's input is key from the start. They have lived and breathed in the client's world, understanding their vision, culture, goals, objectives, and challenges, as well as insights into the client's own customers. They may well also understand the pressures and constraints the client's procurement team face. A perfect starting point for the solutioning team to develop the answer.
The Executive Summary
As soon as the 'kick off' meeting is done, you should start crafting your Executive Summary, refining it along the way as your solution evolves. It is often the only part of your response that key decision-makers and stakeholders will read and so it needs to grab the reader's attention and include all the right messaging presented in a customer-focused way.
A strong Executive Summary creates the right rapport and presents you as the best people to deliver the client's solution from the outset. If you've hit the right note, then the buyer will immediately see that you:
understand what their business is looking to achieve
know what's needed to do it successfully
provide a clear picture of what you will deliver
offer compelling reasons to be selected ahead of the competition.
An Executive Summary that has real impact almost certainly sets the tone for the remainder of your response to be seen in a positive light, with buyers subconsciously scoring you higher and already seeing you as a great partner to work with.
Try and keep your Executive Summary to a single page, two as a maximum, include eye catching diagrams and images to bring your story to life, always use assertive language, and include a relevant testimony if you have one.
Creating the content
Read and re-read the RFP document to make sure that you're answering the questions that have been asked. It's always tempting to demonstrate all your knowledge and expertise in one go. Be mindful of information overload and the risk of key messages getting lost.
You do need to ensure a compliant response but that doesn't mean you can't be bold and creative with your written content. Your salesperson has shared the story that now needs bringing to life.
Always use plain English and avoid jargon that the reader might not understand and ensure that any pre-written content in your bid library is up to date. Use graphics and diagrams to emphasise your point whenever you can. Aside from strengthening your message, it also breaks up the text and can stop your response from being too 'wordy'.
Write with the audience in mind and make everything about the client and not you. A good rule of thumb is to take a look at the Executive Summary and count up the number of times the customer is referred to by name and the 'you, your, yours'.  Do the same for your own organisation and the 'we, us, our, ours'. If you're winning the count, then you're not putting the client at the heart of the response.
How does it look?  
Put yourself in the shoes of the buyer. If you're ready to invest in a business to supply and represent your organisation, then you might just want to see that investment reciprocated.
Plus, as a potential supplier, you need to put your money where your mouth is to impress, coming across as both confident and professional enough to secure and run a large contract.
Strong visuals are memorable, helping you to create a positive first impression and sell your solution. Illustrations and infographics can help to explain a complex or technical response making it easier to understand and reader friendly. If you are limited by a word count in your response, it's also a clever way of overcoming this.
The use of video is great at any time but more so when our face-to-face contact is minimal or even non-existent. It is a powerful medium that brings your proposal to life, familiarising the buyer with your business, your solution, and the delivery team.
Whether or not you have an in-house design team or need to work with an external partner, make sure you set expectation regarding timescales and anticipated last minute changes. They may be fabulous designers, but they also need to work at 'proposal' speed.
The killer presentation
So far, you've produced an eye-catching proposal with an Executive Summary that ensures the rest of the document will be seen favourably and increases the likelihood that buyers can see themselves working with you.
The final leg of the tender response journey is the presentation and your opportunity to reinforce the buyer's decision that you are the people they want to do business with.
Being able to translate your document into a pitch that you can deliver in the flesh allows you to really demonstrate your experience in the room, bring your solution to life with personal stories and anecdotes, using collateral that effectively tells your story.
With so many meetings now taking place online, it's tough for buyers to know whether you are the people who they can like and trust having never met, and so it's important that you use the time to present your team as a trusted partner. And, whatever you do, rehearse your pitch. Online presentations can lack colour, rapport, and personality, so it's key that your messaging is flawless.
Key takeaways
Responding to tenders is not often seen as the most exciting part of the sales process but it is a key part of your sales toolkit, and critical to your growth.
To increase your chances of success, remember that you can't qualify hard enough. Be ruthless in your process to weed out the opportunities where there's just no hope.
On a positive note, this can sometimes work in your favour when a buyer has assumed you'll play a part in the process and might have to re-think his strategy. It can also open up discussions about future opportunities where you might be a stronger fit.
Spend time creating a compelling Executive Summary to create a great first impression and get the evaluators on-side quickly. Back it up with your understanding of the customer's vision, how it can be done successfully and what you can deliver. Demonstrate your capabilities, innovation, and uniqueness to confirm 'why us.'
Wrap it all up with carefully thought-out graphic design to show professionalism, creativity, and determination to set the standard for other bidders. It's an investment that makes a strong statement and chances are, you'll be the first response to be read and will lead from the front.  
And remember, when it comes to presentations in the digital era, practice makes perfect, and you do have to try so much harder to bring your pitch to life.
Finally, we all know that a response has to adhere to specific rules to make it a compliant bid and so it's vital that you conform, but that shouldn't stop you from showing your flair and expertise. When a buyer reads your submission, they should be thinking wow, what an innovative, ambitious, and winning bid!
Connect with a winning tender writer