Outsourcing
Offshoring and Outsourcing: Definitions, Models and Segments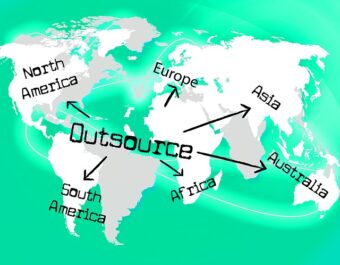 Outsourcing is the contracting of a service to a third party. The outsourcing industry is broken down into segments, the largest of which are BPO and ITO (collectively referred to by some as IT-BPO). These two segments are estimated to represent a global market value of US$700 billion.  ITO is the larger of the two.
KPO and RPO are often represented as subsets of BPO, and are lesser-known terms.
BPO is sometimes referred to as BPS (Business Process Services). 
So what do all these three letter acronyms mean? In this article, we unpack the jargon of the outsourcing services industry, and review the most common operating and location models.
Definitions
Matchboard uses the following definitions:
BPO: BPO (Business Process Outsourcing) is defined as the outsourcing of business functions in the front office or back office. Front office mostly refers to contact centre services, which includes voice as well as written channels (eg. email, chat, messaging, social media), but it can also refer to face-to-face services – such as providing over-the-counter services at an information kiosk. Back office refers to services that are mostly not customer-facing, and are the "behind the scenes" services of a business such as F&A (Finance and Accounting), HR (Human Resources), claims and application processing, data processing and procurement operations.
A BPO is also the term used to describe a provider of BPO services. BPOs in this sense are also called "outsourcers".
BPO Case Study

An online Australian marketplace for insurance products wanted to offshore their call centre Quality Assurance (QA) function. It was a requirement for all insurance sales made over the phone to be verified, to ensure product disclosures were accurately provided and the customer was in agreement. However it was cost-prohibitive to listen to and verify all calls in Australia. The solution lay in offshoring: the company requested options in the Philippines, which Matchboard was happy to provide. We also brought to our client's attention options in Fiji (similarly priced to the Philippines) and South Africa. Ultimately a BPO in Fiji was selected to provide the outsourced QA service, which has been running continuously for five years. Having never outsourced before, the client cautiously started with just 2 QA agents, however based on early success, the team rapidly expanded to 60 FTE.
KPO: KPO (Knowledge Process Outsourcing) is defined as the outsourcing of business functions which require specialised knowledge. Examples are legal and medical services, R&D (Research and Development), analytics, market research and complex financial services (for example tax planning). In order to provide these services, formal industry training, qualifications or licences may be required.
RPO: RPO (Recruitment Process Outsourcing) is defined as the outsourcing of recruitment processes, primarily identifying, shortlisting, contacting and vetting candidates. A companion of RPO is HRO (Human Resources Outsourcing) which includes processes such as employee onboarding, payroll inquiry management, and administering HR policy and procedures. Some define RPO as a subset of HRO.
ITO: ITO (Information Technology Outsourcing) is defined as the outsourcing of IT functions, such as software, web or app development, network services and Tier 2/3 technical support.An ITO is also the term used to describe a provider of ITO services.
Operating Models
The outsourcing industry offers clients a variety of operating models, the most common of which are:
Traditional outsourcing: a managed service where the outsourcer has responsibility for service delivery and is accountable for performance (eg. with KPIs)
Co-sourcing, or staff leasing / seat leasing: the BPO/ITO provides the facility, computer/telephony, payroll processing and other support services, while the client is responsible for deciding who to hire, and for directing the staff. This model suits companies that want to tightly control and manage the operation offshore.
Captive setup assistance: a consulting service to help clients set up their own entity in the country where services are delivered (known as a "captive").  Captives may also be referred to as "inhouse" centres. Captives often operate as "shared services" centres with multiple business functions operating within the one facility.
While traditional outsourcing is still the most popular model, the co-sourcing model has surged in popularity the last few years. Other less common models are:
DBOT (Design, Build, Operate Transfer) – where a client has the BPO/ITO build the delivery centre and get it running to an optimal level before transferring ownership to the client
Carve out or asset transfer – whereby a BPO/ITO buys a client's assets, usually consisting of people, hardware, software and premises, and outsources back to the client with guaranteed financial or other business improvements.
Joint ventures. This is where a BPO and a client form a new company to manage an operation, sometimes with a view to then offer services to the market externally.
Request Pricing for Outsourcing
Location models
Another way to look at outsourcing is based on the location of service delivery. Many people ask what is the difference between outsourcing and offshoring, and these definitions explain the difference:
Onshoring: outsourcing within your own country, for example, an Australian business outsourcing within Australia. This is particularly common in sectors with heavy security or compliance requirements, such as health and Government.
Nearshoring: outsourcing to another country in close proximity, such as from Australia to New Zealand, or from the US to Mexico. There is no precise definition of nearshoring in terms of the flight time between two countries, however under 3-4 hours would be a reasonable understanding.
Offshoring: outsourcing to, or running an operation in, a distant country
Home-shoring: outsourcing to remote workers, who work from home – whether onshore, nearshore or offshore. Home-shoring has skyrocketed since the start of the pandemic.
Right-shoring / Best-shoring: outsourcing to the most appropriate location or mix of locations to meet a particular business need
Multi-shoring: outsourcing to, or running an operation in, multiple countries
Offshore location options
Each country has its strengths and weaknesses. You can find out more about the value proposition of different outsourcing destinations here:
Offshore BPO Case Studies by Country

Fiji: an online retailer's business boomed in international markets during COVID-19.  Customer service demand was more than the firm could handle inhouse. The retailer knew of other companies whose offshore operations in the Philippines were negatively impacted during the country's long-running lockdowns and shutdowns, so they consulted Matchboard for other location options for a traditional customer service outsource. Due to the decimation of its tourism industry, Fiji had a customer-service friendly workforce ready and able to assist. The client was able to get a team of 35 agents up and running with a BPO in Fiji within two weeks.

Philippines: one of Australia's largest car-share platforms was experiencing dramatic growth in line with consumer demand for more environmentally-friendly transport options than car ownership. Supplementing its onshore contact centre, the company saw outsourcing offshore as offering multiple advantages, including cost reduction, risk mitigation (with 2 sites rather than 1), and faster ramp-up times. But as a first-time outsourcer, the company was nervous. Matchboard helped the client identify a boutique BPO in the Philippines with sales and account management in Sydney, where the client is headquartered. This immediately brought peace of mind and ensured excellent communication for the offshore transition.

South Africa: a chain of veterinary clinics in Australia needed an around the clock call centre to support its customers' emergency needs. The main pain point was after-hours and weekends, which were difficult to staff locally. With night-time in Australia equating to day-time in South Africa, Matchboard recommended the client consider outsourcing calls to an experienced BPO in South Africa, where costs are around half the costs onshore, particularly when considering shift penalty rates. The client proceeded with this option, now without the stress of finding and retaining staff during the "graveyard shift". 

Sri Lanka: a home loan provider had been outsourcing back office mortgage processing in the Philippines and built up a large team there over many years. However with intensifying competition for talent, and the effect of continuous lockdowns, the company was ready to consider other locations and consulted Matchboard for options. It was important that any other location have a stable workforce with experience in loan processing and adjudication, with a cost structure equal to or better than the Philippines. One location option Matchboard identified was Sri Lanka, which has one of the highest per capita pools of finance and accounting graduates, at an extremely attractive pricepoint. The client was happy with this recommendation for its new strategy.

New Zealand: a fuel card company launched a new product and required a call centre to call businesses around Australia to promote it. When speaking to business owners, the call centre agents needed to quickly establish rapport and articulate the value proposition. While costs were much lower in other countries, New Zealand, with its similarity in accent and culture, offered better sales conversion – and with a limited data set, conversion was key. Matchboard was able to recommend a BPO in New Zealand with experience in the fuel card sector and with a strong track record in sales. Based on this perfect match, the client moved quickly to contract and the BPO launched within weeks.
Next steps
Within outsourcing, there are many operating models, location options, and services. It's vital to ensure you're on the right path for what is generally a strategic and critical business decision. Make the most of our free outsourcing advisory service or enter your outsourcing needs to get a shortlist of recommended suppliers. 
Find trusted Outsourcing Partners